TECHNICAL NOTE: photocell for day/twilight/night change
ICAO ((EASA, STAC, GDF03, DSANA, CASA, directive AD I-006 F, CAP168 (UK), BL 3-10 (Denmark)), FAA and many Civil Aviation Authorities have defined the thresholds for day twilight and night mode for the red, white and dual color obstruction lights :
As per ICAO, the thresholds are defined as below :
day mode is defined when ambient illumination is above 500 cd/m2 (or 500 lux);
twilight mode is defined when ambient illumination is between 500 cd/m² and 50 cd/m2;
and night mode when illumination decrease to à 50 cd/m2 (or 50 lux)
The FAA defines illumination of 646-376,8 foot-candles for twilight and 53,8-21,5 foot-candles for night mode.
PHOTOCELL OR SENSOR BUILT-IN THE LIGHT FOR DAY/TWILIGHT/NIGHT MODE
Our ambient light sensor (photocell) should be mounted upright, away from artificial light (eg., floodlights), and in a location that will enable its sensor window to have an unobstructed view of the polar sky (eg., pointed north in the northern hemisphere). The ambient light sensor is normally installed at the bottom of the obstacle For dual color medium intensity or high intensity system, the ambient light sensor is powered through 48VDC and emit 2 logical signals in 48Vdc for twilight and night (By default day is the absence from both signal). It can be connected on the power supply of the light or on the controller located at the bottom of the obstacle
For red only medium intensity or low intensity, it can be used to power directly at night only the red obstruction lights in the limit of 2A maximum using the "night signal"
Normally dual color medium intensity used the "night signal" only to change both red/white and intensity step from day to night and vis versa (using the twilight signal is also possible and provide less light disturbance because the change of light intensity from 20 000 candelas to 2000 candelas come earlier in the day)
High intensity are using the 2 signals to change the intensity steps day/twilight and twilight/night
1. External ambient light sensor (photocell)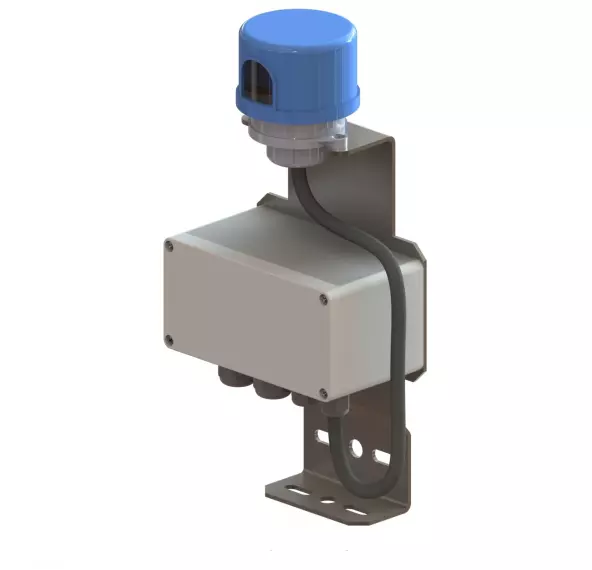 | Designation | Power voltage | Part number |
| --- | --- | --- |
| Photocell DC | 12 - 60 Vcc | 100757 |
| Photocell AC | 110 - 240 Vac | 100756 |

2. Obstruction lights with built-in photocensor
Our medium intensity and high intensity can be provided with a built-in photocensor on the base of the lamp For our low intensity NAVILITE-48Vdc series, our 48Vdc command box with transparent cover do have a photocensor directly fixed on the printed board circuit.
Part number of red medium intensity with photocensor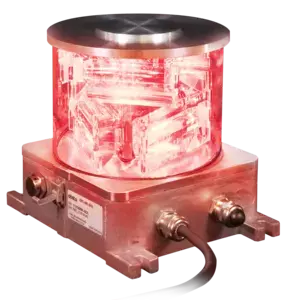 48 Vdc command box with photocensor used with NAVILITE-48V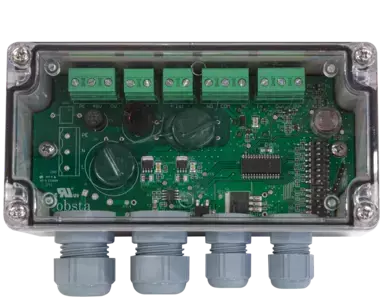 | Designation | Input voltage | Part number |
| --- | --- | --- |
| 48 Vdc command box for 1-4 lamps | 110-240 Vca | 113912 |
| 48 Vdc command box for 1-4 lamps | 48 Vdc | 113915 |
| 48 Vdc command box for 1-4 lamps | 12-24 Vcc | 113915-SOL |
| 48 Vdc command box for 2 lamps | 48 Vdc | 113940 |